Uncategorized
We are constantly tweaking our processes down in Nicaragua as we scale our business towards our goal of 250 stores in Managua. There is never a dull moment down here!
One of the new projects we are working on is getting bank accounts set up for all our store operators. Currently we are testing this bank program with six stores. This allows the women to deposit their income daily into an authorized Rapi-Bac dealer and gets them one step closer to financial inclusion.
This initiative goes hand in hand with our savings program that we launched this year. When encouraging our store operators to save, we realized that having bank accounts would increase the likelihood that our women would actually put this into practice. Leora Klapper, economist at the World Bank's Development Research group explains, ""Access to financial services can play a critical role in reducing poverty when accounts offer a safe, convenient, and affordable way to save and make and receive payments." Saving is not a concept that is taught frequently in these communities so we want to make the barrier to entry as low as possible when introducing this concept. Bank accounts will help us do this!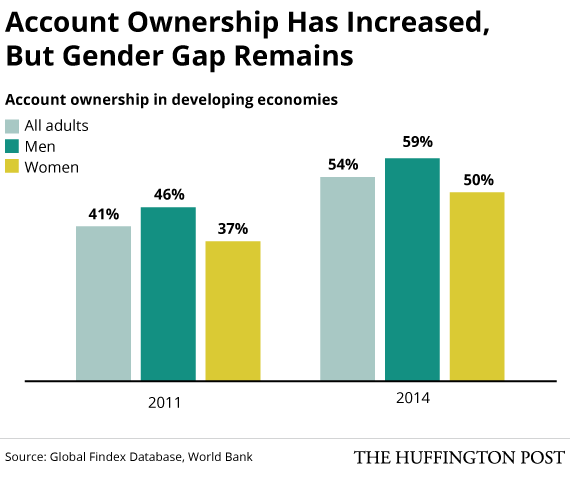 Another reason that this program is important to us, is that we will be setting up bank accounts for over 100 women living in Managua, Nicaragua. Did you know in developing countries, the percentage of women who have bank accounts is much less than men? It probably doesn't surprise you. This graph shows how even though account ownership has increased since 2011, women are still behind men.
Financial independence can be the key to freedom for many of our store operators. We are aware that many of our women are financially dependent on abusive partners, which can cause them to feel trapped.  According to a study by Casa Alianza, " …one in three Nicaraguan women are physically abused by a spouse, partner or other member of the household, making Nicaragua the second worst country in Latin America in terms of domestic abuse." We have heard stories firsthand from our store operators that brings this statistic to life. It is our hope that through Mercado Fresco, women who are stuck in abusive relationships might find the courage and independence they need to protect themselves and their children.
It is our hope to see all of our women set up with bank accounts within the next few months!
Please note: We do not discriminate against male store operators, all our operators are women. Frankly, the opportunity was designed for women and we set out to create an opportunity that served that half of the population. However, if a man wanted to operate a store and he fit the requirements, we would not turn him away.