Uncategorized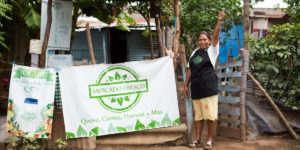 Perseverance is the drive that keeps us going even the midst of challenges. We have all heard the saying "slow and steady wins the race" but sometimes we simply need a little extra encouragement to keep us going. That's the benefit of being a part of a team – others can lift you up and help you to persevere.
In Nicaragua, we are working with families that are unemployed or under-employed (making $2 a day or less). Before becoming a part of the Supply Hope team, they were struggling to provide their children's basic needs. And when discouragement came, they were on their own. But that is no longer the case. Our micro-franchise operators are part of a network that meets regularly for training and to share stories of hope. They are a family. They care for one another, pray for one another and carry one another's burdens.
Life in Nicaragua is not easy.
• Nicaragua is the poorest Spanish-speaking country in the world. It is the 2nd poorest country in the Western Hemisphere.
• The country's poverty most severely affects women and children.
• Nearly 50% of all Nicaraguans are either unemployed or underemployed.
• Distribution of income in Nicaragua is one of the most unequal on the globe. Over 2 million Nicaraguans live in poverty.
• 1 of every 3 Nicaraguan children has some degree of malnutrition.
• 1 of every 4 Nicaraguan children is born to a teenage mother.
• Less than 30% of all Nicaraguan children complete an elementary education.
Even though these statistics may seem overwhelming, our micro-franchise operators are strong, hard working and able to preserver. Given the opportunity, they are able to break out of the cycle of poverty. And that is what Supply Hope is doing – providing them a path out of poverty through micro-franchising.