Uncategorized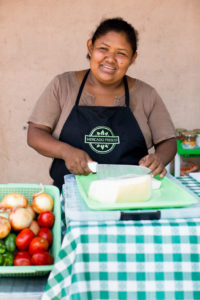 At Supply Hope, we strongly believe that one of the greatest needs of the poor is a way to earn a living. When an individual is able to support themselves and their family it promotes dignity and gives them hope. As we evaluated the employment situation in Nicaragua, we recognized that many people we operating small business in an attempt to earn a living. They had no training but had become entrepreneurs out of necessity and not gifting. As our founder, Beth Meadows, searched for how she could best use her gifts and experience to serve the unemployed or under-employed in Nicaragua she realized that her 25 plus years operating franchises was the answer.
Supply Hope creates opportunities for families living in poverty to earn a steady income through micro-franchises. Micro-franchising applies the basic principles of franchising to provide opportunities for people living in poverty to operate a proven, sustainable business, resulting in a steady income. A micro-franchise is a chain of individually operated small stores that offer customers the same product or service experience at every location. Operating a micro-franchise requires hard work, but it doesn't require a large financial investment or years of experience. Our store operators receive on-going training and support.
Our mission is to provide a path out of poverty through micro-franchising. Our desire is to see families providing for their children's need. We currently have over 50 micro-franchises in Managua, Nicaragua. Store operators were earning $2 a day or less and are now earning $8-10 a day!
You can join us in creating micro-franchising opportunities by joining our Hope Can Happen Campaign!
To learn more visit: https://www.supplyhope.org/hope/