Uncategorized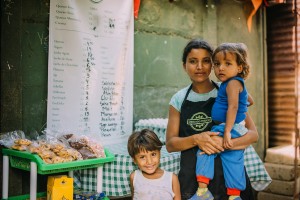 Indira is a single mother with two boys and if being a single mother isn't hard enough, all three of them have severe health issues. Her four year old is partially deaf and mute, her 2 year old has hydrocephalus and Indira has cervical cancer. With all the doctors' visits and unexpected bouts of illness, Indira has struggled to keep a consistent job. Although she studied accounting, prior to working as a Mercado Fresco micro-franchise operator, she had worked part-time as a laundress to support her family.
Indira feels that is best for her to take care of her children alone. "I am a better mother and father to my children – no one should be able to come into my life and hit my kids." Her first husband left the family years ago, after being physically abusive. Although it's hard for Indira to support her family alone, she would rather live with her mother than invite someone into her life that could abuse them again. Although it's not uncommon in Nicaragua for adult children to live with your mother, Indira is wishes she didn't have to rely on her mother financially. She looked around her humble house and said, "None of this mine. Except the freezer," she smiled, "the freezer is mine!"
The new freezer helps Indira stock more products for her Mercado Fresco micro-franchise. Since the store is home-based, she is able to be at home to take care of her children while earning an income. Both of her boys have been bullied at school for their differences, and she is grateful to have the opportunity to work from home and support them through those difficult times. You can tell that Indira worries constantly about her children; it preoccupies most of her brain. When asked about her dream, she responded that she only dreams for her boys. Only having had her store for two months, Indira is mostly using the extra money to cover basic living expenses, but she hopes that soon she can afford to buy a computer for her boys. The public schools don't provide them the individual attention they need, so having extra learning possibilities at home would be a huge benefit.
Indira attributes her successful start with Mercado Fresco to her friendly rapport with her neighbors. Even with the heavy stress each day brings for parents with disadvantaged children, she wakes up at five in the morning and calls out "Good morning everyone!" to her neighbors, starting the day with positivity and energy as she continues to fight for her kids.
Indira has hope for a bright future for herself and her children.
If you are interested in helping women like Indira, please visit: https://www.supplyhope.org/donate-now/