Uncategorized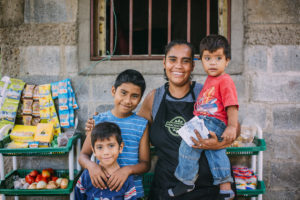 Esmerelda is the mother of  three boys, Angel, Javier, and Emmanuel. Her husband works hard doing road construction but the family has struggled to pay their bills and meet their basic needs.  Esmerelda applied to become a Mercado Fresco micro-franchise store operator with Supply Hope. This home-based micro-franchise would allow her to be at home with her children while earning and income.
Now, Esmerelda has been able to pay off her long standing bills and become debt free! She can now buy weekly groceries, saving her time and money when before she had do shop on a daily basis if she had the money.  She has also been able to buy small household items for her family, like a simple fan, that make the Nicaraguan temperatures more bearable when living without air-conditioning.
Esmerelda wants a better future for her family. She is working hard and has started attending school on Sundays to get her GED. She is now able to pay for school materials and lunches.
With your support, hope can happen!