Uncategorized
Most of us have kicked off the holiday season with our usual shopping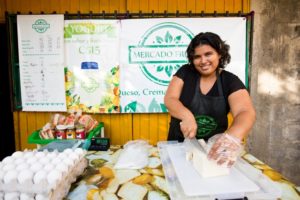 frenzy – Black Friday, Cyber Monday and for some…Cyber Week! In the midst of the holiday shopping and the endless search for the perfect gift and best deal let's not forget Giving Tuesday.
The purpose of Giving Tuesday is to help people focus not just on the cool stuff they can purchase for the holidays but also on how they can give to support organizations addressing some of the greatest needs in the world. This is your chance to slow down and give intentionally. It doesn't matter how much you give – it simply matters that you give.
Supply Hope is giving people living in poverty the opportunity to earn a reliable income through the operation of a micro-franchise.  Most of the store operators are women who previously earned less than $2 a day and had little to no hope for anything more.  Currently, these ladies are earning $8 a day on average – this is a tremendous increase for these families! The waiting list of women desiring to become store operators is growing and we need your help!
As part of Supply Hope's year-end giving initiative, you can help us fund a new store in whole or in part. Each new micro-franchise has $1,000 in start-up costs, including items from $30 up to $300.
Please visit: http://buildastore.squarespace.com  to build a store from scratch and provide hope where it's needed most!