Uncategorized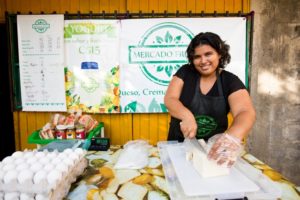 Do you believe that anyone can be an entrepreneur? Some people are simply wired up to be constantly inspired and jump into new ventures with enthusiasm and determination. Others of us are a bit more risk adverse! But there is an "in-between". Many people living in poverty are forced to become entrepreneurs out of necessity and not gifting. There is simply no other opportunity.
In Managua, Nicaragua, Supply Hope is using the franchise model to provide the support and structure needed for "necessity entrepreneurs" to be successful in a business that will provide them with a steady income allowing them the opportunity to provide for their families. Our micro-franchise store operators are hard working and desire to provide a better way of life. We are providing families living in poverty the opportunity to break the cycle of poverty and rise above their circumstances. The most exciting part of the program is that the model is scalable and replicable. We already have over 50 locations!
Your support and encouragement enable our continued success and in this way you are also participating in the entrepreneurial success of our Supply Hope team. Together we are able to continue to provide a means to end the cycle of poverty for these Nicaraguan families.
Thanks for your help and thanks for being entrepreneurs along with us!